Mr Wesam Aleid
BDS, MBBS, MRCSEd, FFDRCSI(OSOM), FRCSEd(OMFS), MBA (SE)
Consultant Oral, Facial and Head and Neck Reconstructive Surgeon , Pennine Acute Hospitals NHS Trust – Manchester.
Mr Aleid holds practicing privileges at the following private hospitals:
BMI The Alexandra Hospital
BMI The Beardwood Hospital
Spire Cheshire Hospital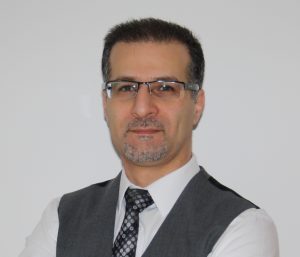 Specialty Areas:
Head and Neck Surgical Oncology

Head and Neck Microvascular Reconstructive Surgery

Facial Plastic Surgery
Oral and facial rehabilitation including dental Implantology
Background:
Mr. Aleid is on the General Medical Council Specialist Register for oral and maxillo-facial surgery and on the General Dental Council Specialist Register for oral surgery.
Mr. Aleid completed both medical and dental degrees at Jordan University of Science and Technology. He undertook part of his basic surgical training in Jordan before moving to the UK where he finished his basic surgical training then moved onto higher surgical training in Trent Region from 2007-2012. In 2013 Mr. Aleid was appointed as a consultant in oral and maxillo-facial surgery and dental implantology at Lincoln County Hospital, after which he moved on to the Northwest to join the team at North Manchester General Hospital as a consultant in maxillofacial surgery, head and neck surgical oncology and reconstruction.
Mr. Aleid works with the specialist multi-disciplinary teams in head and neck oncology and in dermatology for skin cancer. He provide services across head and neck oncology, skin lesions, trauma, facial plastic surgery, general and oral surgical conditions.
Mr Aleid has an international reputation in facial cosmetics and in treating facial conditions. He regularly runs courses both nationally and internationally, teaching other health professionals on surgical and non-surgical facial cosmetics. He is also an Honorary Clinical Lecturer at The University of Manchester – School of Dentistry, helping with the education of undergraduate dental student during their hospital placements.
Mr. Aleid is the associate editor-in-chief and co-founder for the International Trainee Journal of Oral and Maxillo-facial Surgery (a journal concerned with treatment of the mouth, face, and jaws). He has made 14 publications and more than 65 oral/poster presentations.
Mr Aleid is head of the scientific committee for The British Academy of Aesthetic Facial Surgery ensuring excellent quality of all educational activities carried out by the Academy. He is also the Clinical Director for Aesthetic Courses UK which has been established to lead the training of doctors and dentists in the field of facial aesthetic procedures
Other services Mr. Aleid provides include surgical extractions, dental implants, oral cancer management, oral medicine, facial skin cancer management and facial reconstruction. He also provides anti-wrinkle treatments and fillers as well as facial plastic surgery and facial thread lift including silhouette soft threads.
Mr Aleid has an international reputation in facial cosmetics and treating facial conditions.He regularly runs courses both nationally and internationally teaching other health professionals on surgical and non-surgical facial cosmetics